The 8th Annual

ACUTE STROKE

TREATMENT

SEMINAR

24-25th August

2019

The Westin Brisbane

Australia

Limited seats available

For registrations and tickets

Registrations are now closed
---
Program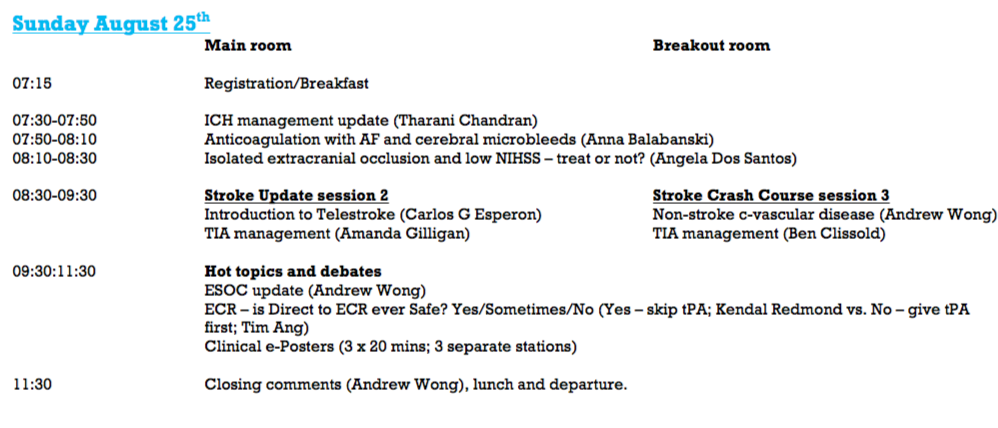 ---
This year we are introducing the Stroke Crash Course. This lecture series is intended to be repeated annually, and serves as either an update for the practicing clinician or a way to rapidly get 'up to speed' for trainees. The topics are aligned with the Curriculum available on the Stroke Academy webpage. The focus of the Crash Course is on relatively established knowledge.

The Crash Course is supplemented with a parallel program of practice-changing updates and areas for debate presented in the 'Update' sessions, and plenaries of general interest to the practising stroke specialist. This includes updates from recent international scientific meetings and topics to inform the management of stroke in everyday situations.

Topics in the program for 2019 include ESUS management and AF detection, thrombolysis in extended time windows, antiplatelets acutely after stroke and patient selection for ECR.
---
Why would you present an ePoster?
What are ePosters?
We will have a session where meeting delegates can present their cases. This will be something like a traditional poster presentation although the topics will be clinical rather than research.
Why would I present an ePoster?
The session will be moderated by a Stroke Physician who will direct discussion to explore the issues your case raises. You will also gain some experience in presenting in an ePoster format, which is becoming a more common feature of conferences worldwide. It's not a competition though – there's no prizes.
What do I have to do?
Send a copy of your powerpoint slides (4-5 will do) including a couple of discussion points to contact@strokeacademy.com.au and we'll let you know. Use the subject line 'ePoster' or something similar please. There's no need for a literature review. Bring the presentation on USB as well and be prepared to present your case for 5 minutes and to take part in some discussion around the case.
Feel free to email us or leave a message on Facebook https://www.facebook.com/AustralasianStrokeAcademy
---
Guest Speakers
A/Professor Henry Ma
A/Professor Andrew Wong
Dr Ben Clissold
Dr Elizabeth Pepper
Professor Bernard Yan
A/Professor Andrew Lee
Professor Mark Parsons
Dr. Anna Balabanski
Professor Vincent Thijs
Professor Thanh Phan
Dr Amanda Gilligan
Dr Lee-Anne Slater
Professor McCombe
Dr Claire Muller
Dr Angela Dos Santos
A/Professor Jim Jannes
Dr Tim Ang
Dr Tom Wellings
Dr Carlos G Esperon
Dr Nawaf Yassi
---
Message from the President
I would like to thank the Australasia stroke Academy (ASA) for the honour of being elected to be the first President of ASA. I would like to recognise the support I have received from the Patron, councillors, Academy fellows and members of ASA.
I became involved in the running of ASA over the last four years as a councillor following the great footsteps of the founding members of ASA including Professor Davis, Professor Parsons, Professor Yan and A/Professor Lee. The reason for my initial involvement was the clear vision of ASA to be the driving force of professional stroke education for physicians who are interested in stroke medicine in Australasia.
Over the years ASA has gone from strength to strength expanding its profile from an annual meeting to international joint meetings (with Korea Stroke Society and Vietnam Stroke Society) and supporting young investigators. We now have more than 150 members. The feedback from our annual scientific meeting has been extremely positive and we will continue to improve the program.
Looking ahead in 2019, we will publish our first two education modules and will host an annual meeting in Brisbane, joint ASA-SSA workshop in the Stroke Society of Australasia conference in Canberra, international meeting in Malaysia and Taiwan, and many more educational activities.
Over the next three years ASA will focus on becoming the premier provider and ambassador of stroke education to all level of medical professionals with specific interest in nurturing the up and coming stroke doctors. We will achieve this by the establishment of a comprehensive curriculum, stroke education modules, focused educational workshops, and a wider involvement from our ASA members.
I will also like to congratulate the newly elected vice-president, A/Professor Andrew Wong, treasurer, Dr Benjamin Clissold and secretary, Dr Elizabeth Pepper. This new ASA executive will provide a strong governance structure to the running of ASA.
I am most mindful and grateful of the confidence shown in me by the ASA patron and council. I will endeavour to work with all the ASA members, national and international professional bodies to bring ASA into the next level and to serve our members to the fullest.
A/Prof. Henry Ma
March 2019
Please join the Australasian Stroke Academy

The Academy values your support and most importantly, sharing our vision. The Academy is an evolving organisation with more than 150 stroke physician members and it is keen to actively engage with our members through open dialogue and feedback. Your participation and opinion will help to shape this organization to be a professional body of which we can be proud. Click here to join.